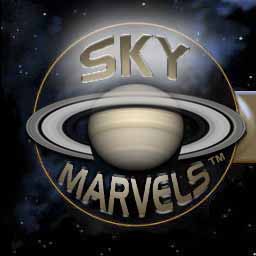 "Curiosity Rover scans the
horizon of Mars!"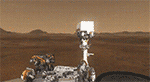 Animation © SkyMarvels.com
derived from NASA/JPL CalTech animation.
Mars, the "Red Planet", is covered with iron oxides ("rust") that give it its distinctive color! (1.6.x) (1.4.1)
Mars, the fourth planet from the Sun, has the second-most eccentric orbit of any of the major planets! (1.6.x) (1.4.1)
Mars possesses two tiny irregularly shaped moons, Phobos (1.6.x) and Deimos (1.6.x) , both so small that each one's longest axis is only a fraction of the length of Manhattan!
Right Drag with your mouse after you run the links above that display planetary orbits to get a good sense of their 3-dimensional aspects.
Are you unfamiliar with our 1.6.x and 1.4.1 links? For an explanation click here.
SURFACE VIEWS

Explore the Martian surface! These surface views of Mars from various missions show the diversity in the planet's topography. You can go to the NASA page that explains an image by clicking on the tiny page symbol next to the image date.
SPIRIT Rover:
2004 May 20


2005 Sep 4 - 7


2005 Oct 1 - 3


2005 Nov 3


2005 Nov 23 -28


2005 Dec - 2006 Jan


2006 Feb 9 - 12


2006 Feb 19


2006 Apr 18 - Aug 17


2008 Feb 28 - Jul 2


2008 Feb 28 - Oct 23


2009 May 14 - Jun 20


Lots More

PHOENIX Lander:
2008 May - Jun


2008 May - Jun

OPPORTUNITY Rover:
2006 Feb 26


2006 Aug 6 - Aug 9


2006 Sep 28 - 29


2006 Oct 16 - Nov 7


2007 Oct 23 - Dec 11


2008 Nov 21 - 24


2010 Nov 10


2010 Dec 16


2010 Dec 18 - 19


2011 Aug 6


2012 Jan


2011 Dec - 2012 May


Lots More

CURIOSITY Rover:
2012 Oct 5 - Nov 16


2012 Aug 9


2012 Aug 18


2012 Sep 20


2012 Nov


2013 Jun 1


2013 Jul 24


2014 Jan 28


2014 Jan 30


2014 Feb 9


Lots More

Also have a look at NASA's Billion-Pixel View From Curiosity at Rocknest
MARS TRAVERSE MAPS

These maps show the routes taken by the intrepid Martian rovers: Spirit, Opportunity & Curiosity. As Opportunity & Curiosity are still exploring the Martian surface, you can keep track of their progress using these maps!
Here's a cool NASA graphic that compares the Distance Traveled by Mars and Moon Rovers.
MARS WALLPAPERS

Enjoy these high-resolution (1920x1200) images.
CELES-TIPS
The following will help you enjoy this page's 1.6.x and 1.4.1 links that run events directly in CELESTIA. If you're new to the program, these tips will also help you learn to use it.
If CELESTIA's clock (i.e. the program's date and time) is not visible at the top-right of its window, press the V key until you see it. This will also turn on information text in other corners to help you keep track of several aspects of the event you're viewing. Keeping an eye on CELESTIA's clock at the top-right will help you appreciate how much time is passing in each view.
Pressing the "un-shifted" L key and K key respectively will speed up and slow down CELESTIA's flow of time by a factor of 10 in version 1.6.x and 1.4.1.
Pressing Shift+L and Shift+K respectively will speed up and slow down CELESTIA's flow of time by a factor of 2 in version 1.6.x only.
Pressing the J key (either shifted or "un-shifted") will reverse CELESTIA's flow of time in version 1.6.x and 1.4.1.
You'll find more information about many of CELESTIA's controls on our Learning Center page.
---
"The moons of Mars are tiny, potato-shaped affairs!"
MARS

Current Views and Conditions from Earth
Current Location in the Constellations (w/ Geo-Coords)
Current Location in Orbit

Equatorial Radius: 3,396.2 km
Equatorial Radius (Earth = 1): 0.532
Rotational Flattening: 0.00648
Mass (Earth = 1): 0.107
Volume (Earth = 1): 0.151
Mean Density (Water = 1): 3.94
Mean Density (Earth = 1): 0.713
Surface Gravity (Earth = 1): 0.379
Inclination of Axis to Orbit: 25.19°
Rotation Period:
Synodic ("Day" in Earth hours): 24.6597
Sidereal (in Earth hours): 24.6229
Albedo (geometric): 0.17
Magnetic Field (Earth = 1): 0.02
NASA Graphic



View Mars in 3-D: a terrific 3-D animation from Robert Vanderbei's great site. Drag Mars to see the poles; but if you do, view always rotates left to right, not around Mars's axis. (Requires browser supporting WebGL )
Image Tours: Mars 2005 is a nice Flash interactive from HubbleSite
LASP's Planet Designer: Retro Planet Red is an intro to the intriguing history of Mars!

Maps of Mars's Surface:
Annotated Partial Global Map (7.25 km per pixel)
USGS Mars Global GIS Mapping Application
High-res VIKING mission view of Mars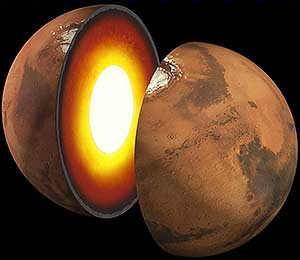 A nice NASA rendering of Mars's Internal Structure

NOTE: for annotated internal structure of Mars, hover your cursor over the planet's image at top-right.

Number of Moons: 2 (Phobos and Deimos)
Compare to Mars
Compare to Other Moons
Wikipedia's Moons of Mars page

Ring System: No

Planet Classifications:
Inner Planet (along with Mercury, Venus & Earth)
Terrestrial Planet (primarily Earth-like structure)
Superior Planet (has larger orbit than Earth)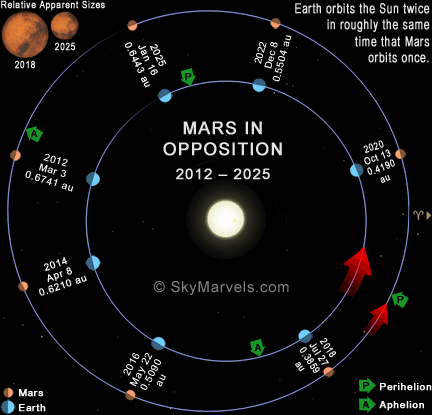 To view larger and with notes, click on image or here.

Orbit: (1.6.x) (1.4.1)
Period: 686.98 Earth solar* days
Distance from Sun:
Mean (Earth = 1 AU): 1.524 AU
Mean: 227,920,000 km
Perihelion: 206,620,000 km
Aphelion: 249,230,000 km
Velocity:
Mean: 86,868 km/hr
Min: 79,092 km/hr
Max: 95,400 km/hr
Eccentricity: 0.0935
Inclination to Ecliptic: 1.85°
Retrograde Motion: General 2016

*Earth mean solar day = 24.0000 hours (24h00m00s)
Earth sidereal day = 23.9345 hr (23h56m4.1s)

Partial Information Source: NASA Fact Sheets
---
ADJECTIVES MEANING
"pertaining to Mars"

Martian
Arean (from Greek god, Ares)
---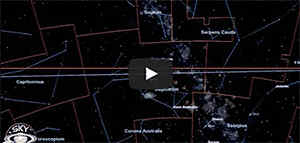 View NASA's awesome Mars Exploration site.
MARS SPIRIT and OPPORTUNITY Locations
MARS ATMOSPHERE LOSS
video credit: NASA/Goddard Space Flight Center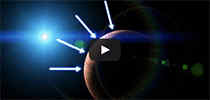 LANDING SITES OF NASA MISSIONS
video credit: NASA/Goddard Space Flight Center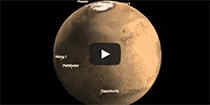 MARS SCIENCE LABORATORY
CURIOSITY ROVER
video credit: NASA JPL CalTech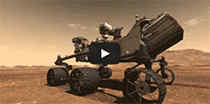 CURIOSITY ROVER'S FIRST TOUCH AND GO
video credit: NASA JPL CalTech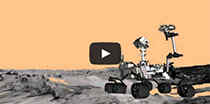 EXPLORE MARS WITH CURIOSITY
video credit: NASA JPL-CalTech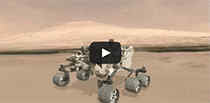 DIRECT LINKS TO OTHER NASA VIDEOS
You must have the noted player installed to view these. Note: you might have to click on these more than once, as some NASA servers (like http://svs.gsfc.nasa.gov in particular) can be temperamental and slow to connect. If a video does not load, try again at another time.

NASA's Phoenix Mars Lander. (QuickTime) video credit: NASA JPL CalTech
Here's a nice introduction to the Red Planet: Journey to Mars
From NASA's Photojournal pages, here's Curiosity Speaks

From NASA's Photojournal pages, here's Great Convergence of Spacecraft around Mars

---
LINKS TO SOME VERY COOL NASA-JPL
MARS DOWNLOADS AND MORE
Want to know what time it is on Mars? And what parts of Mars are in daylight and darkness? Go to NASA's Mars24 Sunclock page and download their app. Available for Windows, Mac and Linux.
Mars Science Laboratory (Curiosity) Launch Press Kit (PDF, 5.21 MB) Lots of pictures and background info!
Beautiful Earth/Mars Comparison Poster (PDF, 298 KB) Perfect for any classroom or dorm room!
2013 - 2014 One Mars Year / Two Earth Years Calendar> (PDF, 7.2 MB) Your own "dual-planet" calendar!
Timeline of Mars Exploration Missions. Lots of good background info here!
---
Back to Top

Home Intro News Gallery Sky-Gifts Bonuses Tips
Learning Ctr Help Links Credits Legal Contact Us

© 2007- by Gary M. Winter. All rights reserved.
Interested in political cartoons and humor?
Check out The HIPPLOMATS™.
SkyMarvels, Sky Marvels, SkyMarvels.com, celestia4all, celestiaforall, CELESTIA, astronomy, space, simulations, animations, downloadable astronomy posters, stars, planets, Inner Planets, Outer Planets, Inferior Planets, Superior Planets, moons, asteroids, comets, Oort Cloud, galaxy, galaxies, Milky Way, Andromeda, globular clusters, binaries, quasars, black holes, supermassive black holes, telescope, telescopes, planetarium, software, freestuff, satellites, add-ons, addons, scripts, eclipses, Solar Eclipses, Lunar Eclipses, Solar Eclipse Finder, Lunar Eclipse Finder, mutual eclipses, transits, occultations, Solar System, CELES-TOOLS, celeSTARrium, CELX, CELX programming, Freebies, Bonuses, multiple views, atronomical unit, light year, parsec, meteors, meteor showers, Perseids, Geminids, Leonids, barycenter, time, Time Zones, tides, alignments, conjunctions, oppositions, seasons, apogees, perigees, aphelion, perihelion, Earth, Luna, Mercury, Venus, Mars, Jupiter, Galilean Moons, Io, Europa, Ganymede, Callisto, Saturn, Titan, rings, Uranus, Neptune, Triton, E-MSpectrum, electromagnetic spectrum, astronaut, equinoxes, solstices, precession, rotation, spin, inclination, tilt, Ecliptic, orbits, ellipse, parabola, hyperbola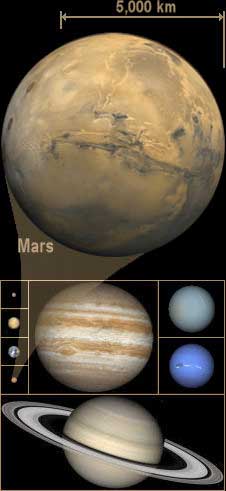 Planet Comparison HD vid.
---
Donate safely with: PayPal
and receive one or more
Sky-Gifts. Your support is greatly appreciated!
NOTE: you do not need a PayPal account to donate.

















———————


---
NASA's LATEST
---
ESA's LATEST
---
MARS FUN FACTS
Mars has roughly the same amount of dry land area as Earth!
Mars has a month named after it—March!
The atmosphere of Mars is 95% carbon dioxide, the same gas that bubbles up when you shake or stir many soft drinks!
Phobos orbits less than one planet diameter from the Martian surface! It is slowly spiraling down toward Mars and may crash into it within 10 million years!
Because it is much closer than Earth to the Asteroid Belt, Mars is struck more than 200 times each year by asteroid fragments one to two meters in diameter!
MARS INTERACTIVES

QUICK ACCESS LIST
Note: some links are echoed elsewhere on this page and may include descriptive text.
HubbleSite's Image Tours: Mars 2005
View Mars in 3-D (Requires browser supporting WebGL )
Links to interactive features that show Mars's orbit in 3-D can be found on our Solar System page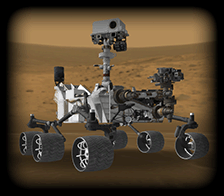 Explore Mars! Stunning 3-D! Real adventures from NASA! The "Free Drive" option is particularly engaging!
Experience Curiosity gives you another awesome 3-D adventure from NASA!
Now you're licensed to drive on Mars! Drive the Spirit & Opportunity Rovers! Loads of great pics and info too!
A cool "landing experience" awaits you as you Follow Curiosity's Descent to Mars! Scroll at your own speed or play it to run automatically.
Here is a similar experience in JPG format: Curiosity: Seven Minutes of Terror!
Here's an awesome one: NASA/JPL's Be a Martian!
LASP's Planet Designer: Retro Planet Red is an intro to the intriguing history of Mars!
From Imperial Solutions, here's a nice little interactive about a Mission to Mars
ExploreMarsNow is a very cool interactive Mars habitat.
Here's a very great way to Learn about the Design of Curiosity! Click on arrows at its sides, then on the circles.
A Windows to the Universe page on The Orbit of Mars
From U. of Colorado's LASP site, here's an exploration of the greenhouse effect and planetary atmospheres in: Goldilocks and the Three Planets! It's excellent, and you'll even see a movie of a real "dust devil" on Mars!
Here's the New York Times link to its awesome: Mars Curiosity Rover Tracker.
From the USGS, here's the awesome Mars Global GIS Mapping Application!
Mars Viewer allows you to find the tilt of Mars & its hypothetical rings, and the locations of its moons, for any time and date.
Mars Moon Tracker allows you to generate and download diagrams of the locations of Mars's moons over spans of time.
---
SKYMARVELS™
POSTER FEATURING MARS
---
SKYMARVELS™
VIDEOS FEATURING MARS
---