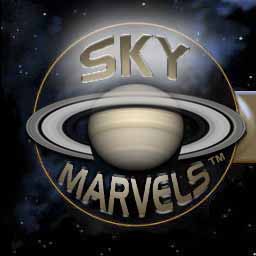 "If you could find a big enough ocean to put it in, Saturn would float!"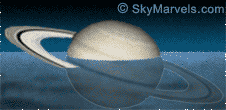 Saturn, the "ringed wonder", has an average density lower than any other major planet—
lower even than water! This and its rapid spin
make Saturn the most "flattened" major planet! (1.6.x) (1.4.1)
Saturn, the sixth planet from the Sun, completes one orbit about every 30 years! (1.6.x) (1.4.1)
Saturn and Earth are tilted by roughly the same amount to their respective orbits! (1.6.x) (1.4.1)
Right Drag with your mouse after you run the links above that display planetary orbits to get a good sense of their 3-dimensional aspects.
Are you unfamiliar with our 1.6.x and 1.4.1 links? For an explanation click here.
CLOUD VIEWS

Like Jupiter, Saturn lacks a solid or liquid "surface". So the ringed planet's "visible surface" is really the top of its elaborate cloud system! Not as multihued as Jupiter, Saturn will one day present us with awesome views! Its incomparable rings, visible through its cloud decks, will arc from horizon to horizon! Enjoy these links to artists' depictions of what we may expect to one day see!
Saturn has some of the fastest winds on the Solar System, much faster than those on Jupiter.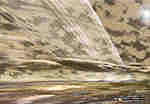 SkyMarvels™ Art © 2013

Here's a transitional region, where the winds of Saturn are considerably more calm.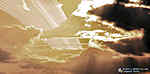 SkyMarvels™ Art © 2013

CELES-TIPS
The following will help you enjoy this page's 1.6.x and 1.4.1 links that run events directly in CELESTIA. If you're new to the program, these tips will also help you learn to use it.
If CELESTIA's clock (i.e. the program's date and time) is not visible at the top-right of its window, press the V key until you see it. This will also turn on information text in other corners to help you keep track of several aspects of the event you're viewing. Keeping an eye on CELESTIA's clock at the top-right will help you appreciate how much time is passing in each view.
Pressing the "un-shifted" L key and K key respectively will speed up and slow down CELESTIA's flow of time by a factor of 10 in version 1.6.x and 1.4.1.
Pressing Shift+L and Shift+K respectively will speed up and slow down CELESTIA's flow of time by a factor of 2 in version 1.6.x only.
Pressing the J key (either shifted or "un-shifted") will reverse CELESTIA's flow of time in version 1.6.x and 1.4.1.
You'll find more information about many of CELESTIA's controls on our Learning Center page.
---
SATURN
Current Views and Conditions from Earth
Current Location in the Constellations (w/ Geo-Coords)
Current Location in Orbit

Equatorial Radius: 60,268 km
Equatorial Radius (Earth = 1): 9.449
Rotational Flattening: 0.09796
Mass (Earth = 1): 95.159
Volume (Earth = 1): 763.59
Mean Density (Water = 1): 0.70
Mean Density (Earth = 1): 0.125
"Surface" Gravity (Earth = 1): 1.065
Inclination of Axis to Orbit: 26.73°
(we therefore see Saturn's rings at different angles
when it is in different parts of its 29½-year orbit)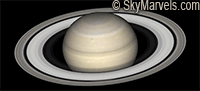 Saturn
"tips its hat"
to us every
29½ years!
Rotation Period:**
Synodic ("Day" in Earth hours): 10.656
Sidereal (in Earth hours): 10.656
Albedo (geometric): 0.47
Magnetosphere



Magnetic Field (Earth = 1): 500
Magnetic Polarity: opposite that of Earth
Regions

Cassini Mission Overview Page

Saturn Rotating
View Saturn in 3-D (showing NO rings)
NASA/JPL-Caltech/SSI Vid: Mysterious Hurricane at Saturn's North Pole


NASA/JPL/University of Arizona Vid: Saturn's Hexagon Polar Structure


Image Tours: Saturn is a nice Flash interactive from HubbleSite
NASA / JPL's Photojournal pages for Saturn

NOTE: to see Saturn's internal structure, hover your cursor over the planet's image at upper-right.

Number of Moons: at least 62 (more suspected)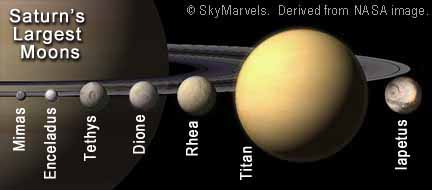 (moons number in billions if you count ring chunks)
Compare to Other Moons
Wikipedia's Moons of Saturn page
Structure of Titan: Saturn's Largest Moon


Structure of Enceledus


NASA Graphic Of Rings Relative to Inner Moons

Ring System: Yes (a spectacular one!)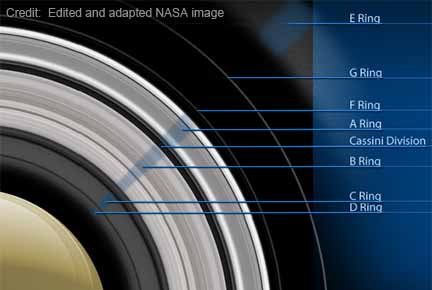 Scroll image below to study Cassini's detailed
natural-color mosaic of Saturn's incredible rings.

For more information on this image, click here.
View Saturn's Largest Ring, discovered by SPITZER


Another View of Saturn's Infrared Ring


SPITZER Video of Saturn's Infrared Ring

Planet Classifications:
Outer Planet (along with Jupiter, Uranus & Neptune)
Gas Giant (mostly hydrogen and helium)
Superior Planet (has larger orbit than Earth)

Orbit: (1.6.x) (1.4.1)
Period: 29.457 Earth years
Distance from Sun:
Mean (Earth = 1 AU): 9.582 AU
Mean: 1,433,530,000 km
Perihelion: 1,352,550,000 km
Aphelion: 1,514,500,000 km
Velocity:
Mean: 34,884 km/hr
Min: 32,724 km/hr
Max: 36,648 km/hr
Eccentricity: 0.0565
Inclination to Ecliptic: 2.485°

*Earth mean solar day = 24.0000 hours (24h00m00s)
Earth sidereal day = 23.9345 hr (23h56m4.1s)

**Different latitudes on the Gas Giants rotate at different speeds

Information Source: NASA Fact Sheets
---
ADJECTIVES MEANING
"pertaining to Saturn"

Saturnian
Cronian (from Greek god, Cronus)
---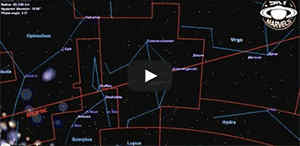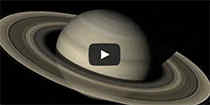 EQUINOX AT SATURN
video credit: NASA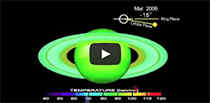 DIRECT LINKS TO OTHER NASA VIDEOS
You must have the noted player installed to view these. Note: you might have to click on these more than once, as some NASA servers (like http://svs.gsfc.nasa.gov in particular) can be temperamental and slow to connect. If a video does not load, try again at another time.

---
DIRECT LINKS TO MEDIA
OFFERED ON OTHER SITES
"CASSINI-HUYGENS: Mission to Saturn" Poster
image credit: NASA/JPL-Caltech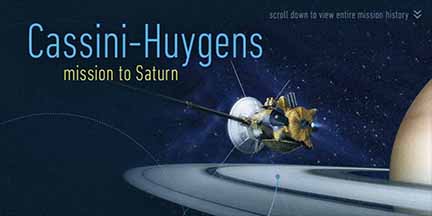 You'll find loads of information and images of Saturn at the CICLOPS (Cassini Imaging Central Laboratory for Operations) site.
A nice NASA graphic of the Cassini Interplanetary Trajectory.
A nice NASA-JPL Multimedia of the Voyager Missions.
---
Back to Top

Home Intro News Gallery Sky-Gifts Bonuses Tips
Learning Ctr Help Links Credits Legal Contact Us

© 2007- by Gary M. Winter. All rights reserved.
Interested in political cartoons and humor?
Check out The HIPPLOMATS™.
SkyMarvels, Sky Marvels, SkyMarvels.com, celestia4all, celestiaforall, CELESTIA, astronomy, space, simulations, animations, downloadable astronomy posters, stars, planets, Inner Planets, Outer Planets, Inferior Planets, Superior Planets, moons, asteroids, comets, Oort Cloud, galaxy, galaxies, Milky Way, Andromeda, globular clusters, binaries, quasars, black holes, supermassive black holes, telescope, telescopes, planetarium, software, freestuff, satellites, add-ons, addons, scripts, eclipses, Solar Eclipses, Lunar Eclipses, Solar Eclipse Finder, Lunar Eclipse Finder, mutual eclipses, transits, occultations, Solar System, CELES-TOOLS, celeSTARrium, CELX, CELX programming, Freebies, Bonuses, multiple views, atronomical unit, light year, parsec, meteors, meteor showers, Perseids, Geminids, Leonids, barycenter, time, Time Zones, tides, alignments, conjunctions, oppositions, seasons, apogees, perigees, aphelion, perihelion, Earth, Luna, Mercury, Venus, Mars, Jupiter, Galilean Moons, Io, Europa, Ganymede, Callisto, Saturn, Titan, rings, Uranus, Neptune, Triton, E-MSpectrum, electromagnetic spectrum, astronaut, equinoxes, solstices, precession, rotation, spin, inclination, tilt, Ecliptic, orbits, ellipse, parabola, hyperbola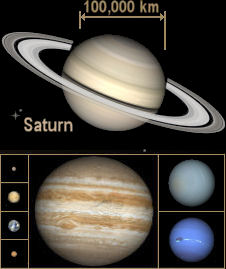 Planet Comparison HD vid.
---
Donate safely with: PayPal
and receive one or more
Sky-Gifts. Your support is greatly appreciated!
NOTE: you do not need a PayPal account to donate.

















———————


---
NASA's LATEST
SATURN CASSINI Location and Status
---
SATURN FUN FACTS
On average, Saturn is less dense than water! It would float—that is, if you could find a bathtub big enough to put it in!
Saturn's rings are beautiful, so beautiful in fact that the planet's nickname is the "Jewel of the Solar System!"
The total mass of Saturn's rings is thought to be about the same as the mass of the planet's small moon Mimas!
The particles that comprise Saturn's rings range from dust-sized specks to a small number that are the size of mountains!
SATURN INTERACTIVES

QUICK ACCESS LIST
Note: some links are echoed elsewhere on this page and may include descriptive text.
HubbleSite's Image Tours: Saturn
View & Drag in 3-D: (When link runs click in the page's right column on "Interactive Sphere".)
Saturn (no rings)
Titan Iapetus Rhea
Dione Tethys
Enceladus Mimas
View & Drag Saturn in 3-D (no rings)
Links to interactive features that show Saturn's orbit in 3-D can be found on our Solar System page
From ESA Where Is Cassini Now? lets you examine the spacecraft's fly-bys of the Saturnian moons and offers current and future info!
From U. of Colorado's LASP site, check out: Cassini-Huygens Mission to Saturn and Titan
CASSINI-HUYGENS Mission to Saturn Poster
Saturn Viewer lets you find the tilt of Saturn & its rings, and the location of its major moons, for any time and date.
Saturn Moon Tracker allows you to generate and download diagrams of the locations of Saturn's major moons and rings over spans of time.
---
SKYMARVELS™
POSTERS FEATURING SATURN
---
SKYMARVELS™
VIDEOS FEATURING SATURN
---