Sun's Position Over Earth
(to update, reload page)
Courtesy: Fourmilab Switzerland
Today's Sunrise & Sunset
Sunrise & Sunset on Earth Day & Night on Earth
No Sunlight on Entire Earth
---
The Sun, Earth's parent star, is a gigantic spinning sphere of incredibly hot gases! It rotates in the same direction that the major planets orbit it. (1.6.x)
Due to Earth's orbital motion around it, the Sun appears to circle the sky (eastward through the background of fixed stars) each year. (1.6.x)
When the Moon moves directly between the Sun and Earth, spectacular Solar Eclipses can occur. (1.6.x)
Are you unfamiliar with our 1.6.x and 1.4.1 links? For an explanation click here.
---
THE SOLAR ANALEMMA
The Sun's Signature
If observed daily at precisely the same time every day, in a year the Sun's position will have traced a large figure-8 in the sky! Astronomers call this the "solar analemma". They also commonly refer to this figure by its nickname, the "Sun's Signature".
A side note: if you do a web search for "solar analemma" you will find many examples that are claimed to be actual series of photos taken over a year's time. Sadly, most are fakes! They're usually easy to spot because they show shadows that the Sun could not possibly cast from where it is in the photos.
SURFACE VIEWS

Andy Devey's awesome site THE SOLAR EXPLORER has loads of stunning videos of the Sun's surface!
SUN PROJECTS
MAKE PAPER MODELS OF THE SUN'S STRUCTURE AND A SUNDIAL!
CANON has a cool website that offers free downloads, including one that lets you make a cool 3D paper model of the Sun's structure and one that lets you make a paper model of a Sundial.
---
MAKE A SCALE MODEL OF THE SUN & EARTH
Here's a great NASA activity that just may surprise your friends: Make a Scale Model of the Sun and Earth and the Distance Between Them.
CELES-TIPS
The following will help you enjoy this page's 1.6.x and 1.4.1 links that run events directly in CELESTIA. If you're new to the program, these tips will also help you learn to use it.
If CELESTIA's clock (i.e. the program's date and time) is not visible at the top-right of its window, press the V key until you see it. This will also turn on information text in other corners to help you keep track of several aspects of the event you're viewing. Keeping an eye on CELESTIA's clock at the top-right will help you appreciate how much time is passing in each view.
Pressing the "un-shifted" L key and K key respectively will speed up and slow down CELESTIA's flow of time by a factor of 10 in version 1.6.x and 1.4.1.
Pressing Shift+L and Shift+K respectively will speed up and slow down CELESTIA's flow of time by a factor of 2 in version 1.6.x only.
Pressing the J key (either shifted or "un-shifted") will reverse CELESTIA's flow of time in version 1.6.x and 1.4.1.
You'll find more information about many of CELESTIA's controls on our Learning Center page.
---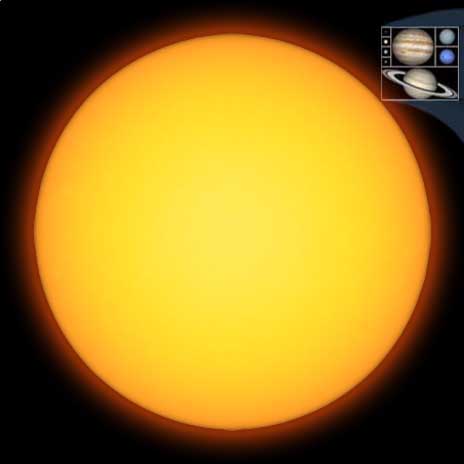 THE SUN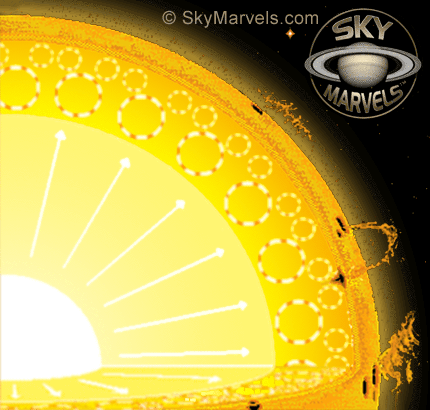 W A R N I N G ! It is never safe to look directly at the real Sun with the naked eye! Moreover, looking at it through a telescope or binoculars without adequate safeguards—even for an instant—can cause permanent blindness! NEVER DO IT! To learn how to safely "observe" the real Sun, consult the professionals at your local planetarium or observatory.
Current Distance and Apparent Size from Earth
Current Location in the Constellations (w/ Geo-Coords)
Today's Sunrise and Sunset at your location.

Latest Major Solar Activity Visible from Earth:
Sunspots Prominences, Flares, etc.

Location:
In the Milky Way Galaxy
In the Local Cloud



Size:
Equatorial "Visible Surface" Radius:
696,342 km
109.18 Earth Radii
9.74 Jupiter Radii
2.32 Light-Seconds
Sun-Size Graphics: NASA/SOHO NASA
NASA NASA/ESA NASA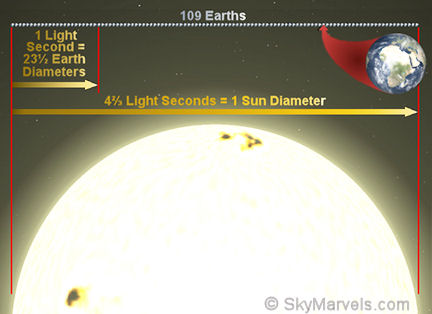 Rotational Flattening: 0.00005
Mass (Earth = 1): 333,000
Volume (Earth = 1): 1,300,000
Mean Density:
(Water = 1): 1.408
(Earth = 1): 0.255
"Surface" Gravity (Earth = 1): 27.96
Escape Velocity:
2,223,360 km/hr
(Earth = 1): 55.2
Inclination of Axis to Ecliptic: 7.25° (1.6.x)
Inclination of Axis to Galactic Plane: 67.2°

Rotation Period: (varies with Latitude)
Adopted Period at 16° Latitude:
Sidereal (in Earth hours): 609.12
Sidereal (in Earth Sidereal Days): 25.559
At Equator: 24.5 days
At Mid Latitudes: 27 days
At Poles: 35 days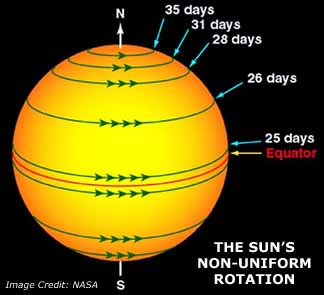 North Polar Direction (on Ref. Date 2000 Jan 1.5 ):
Right Ascension: 19h 05m 31.2s (286.13°)
Declination: 63° 52' 12" (63.87°)
In Constellation "Draco"

Location in Galaxy: Orion Arm (aka Orion Spur)

Distance from Earth: Current
Mean: 1 AU (essentially defines measurement)
Mean: 149,597,900 km
Min (at Earth's Perihelion): 147,098,000 km
Date of: betw. Jan 2 and Jan 6 (current era)
Max (at Earth's Aphelion): 152,096,400 km
Date of: betw. Jul 3 and Jul 7 (current era)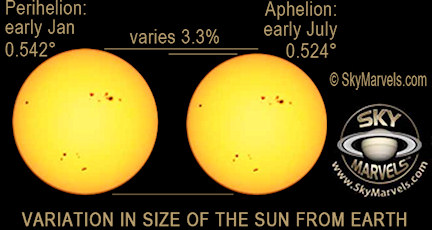 Apparent Size from Earth: Current
Mean: 0.533° (31.98 arc-min)
Minimum: 0.524° (31.45 arc-min)
Maximum: 0.542° (32.53 arc-min)
Velocity Relative to Nearest Stars: 69,840 km/hr

Orbit:
Motion Around Barycenter:
Period: very complex ( watch video )
Max Distance: approx. 1,500,000 km
Min Distance: theoretically 0 (zero)
Around Galactic Center:
Period: 230,000,000 years (estimated)
Radius: 28,000 light years (estimated)
Velocity: 826,000 km/hr (estimated)
Eccentricity: unknown

Magnitude:
Apparent: -26.74
Absolute: 4.83
Luminosity: 384.6 x 10e24 J/s
Temperature:
"Surface": 5,500°C (9,900°F)
Central: 15,600,000°C (28,000,000°F)
Composition (by mass):
"Surface": 70% H, 28% He, 2% (O, N, C, ...)
Central: 35% H, 63% He, 2% (O, N, C, ...)

Ten Most Abundant Elements in the Sun
| Element | Abundance (% of total | | Abundance |
| --- | --- | --- | --- |
| | number of atoms) | | (% of total mass) |
| Hydrogen | 91.2 | | 71.0 |
| Helium | 8.7 | | 27.1 |
| Oxygen | 0.078 | | 0.97 |
| Carbon | 0.043 | | 0.40 |
| Nitrogen | 0.0088 | | 0.096 |
| Silicon | 0.0045 | | 0.099 |
| Magnesium | 0.0038 | | 0.076 |
| Neon | 0.0035 | | 0.058 |
| Iron | 0.030 | | 0.014 |
| Sulfur | 0.015 | | 0.040 |
Stellar Spectral Type: G2 V
Energy Production Process: Fusion
Cycle: Proton-Proton
Mass Conversion Rate: 4,300 x 10e6 kg/s

Solar (Sunspot) Cycle: 11.4 yr (average, watch video)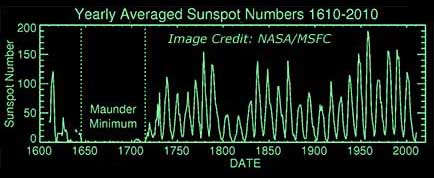 Estimated Age: 4.5 billion years
Estimated Lifetime as Yellow Dwarf: ~10 billion years

*Earth mean solar day = 24.0000 hours (24h00m00s)
Earth sidereal day = 23.9345 hr (23h56m4.1s)

Partial Information Source: NASA Fact Sheets
---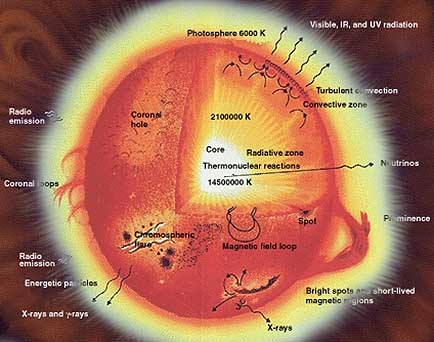 THE SUN'S STRUCTURE
© SkyMarvels.com, enhancement of NASA image
From NASA, THE SUN: A Virtual Tour has some good information and graphics related to the Sun's structure.
From the King's Centre for Visualization in Science (KCVS), here's a very nice Flash demo illustrating the Proton-Proton Cycle that takes place at the solar core and powers the Sun.
---
THE SUN'S APPARENT MOTION
THROUGH THE SKY
Owing to Earth's motion around the Sun, to Earth-bound observers the Sun appears to move eastward in the sky along the Ecliptic. Moving generally eastward about 1° per day through the constellations of the Zodiac, the Sun therefore arrives at very specific parts of the heavens on specific dates and times. To better understand this apparent motion of the Sun, you can view Equinoxes & Solstices through March 2014
---
WHERE IS THE SUN TODAY
ALONG THE ZODIAC?
Here's a nice interactive Flash demo showing the Sun's Location Along the Zodiac at Various Times of Year. Drag its red pointer right and left over the names of the months. You can also drag the Zodiac itself.
---
HOW FAR NORTH OR SOUTH WILL
THE SUN RISE AND SET TODAY?
Here's a nice interactive Flash demo showing the How Far North and South the Sun Rises and Sets at Various Times of Year.
---

EARTH'S CURRENT TILT
RELATIVE TO THE SUN
Though its two principal views display Earth rotating at different speeds, this Flash tool (in Dutch) lets you Easily Find Earth's Current Tilt Relative to the Sun. Moreover you can change just a few Settings to view how Earth's varying tilt throughout the year causes the seasons and affects the lengths of our days and nights. Changing the month is most instructive. (Note: in this animation the Vernal Equinox is essentially toward the bottom of your screen in its Northern Hemisphere view and outward toward you in its Oblique view.)
---
GET THE LATEST AWESOME SATELLITE
VIEWS OF THE SUN WITH "HELIOVIEWER"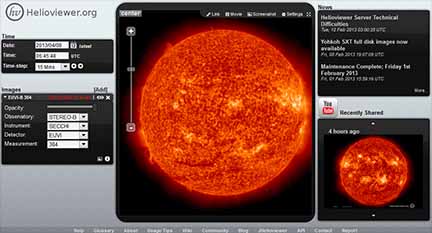 HelioViewer might just be the best free solar astronomy tool on the web, giving you access to countless actual photos of the Sun from multiple satellites! "Time-step" through photos, and save and even make movies of what you find! This free web-tool is not to be missed.
Here's an example movie that SkyMarvels made using HelioViewer. It shows some incredible solar prominence activity on New Year's Eve and New Year's Day!
And to help get you started, here's the direct link to the HelioViewer User Guide.
---
ADJECTIVES MEANING
"pertaining to or relative to the Sun"

solar (from Latin: Sol)
helio- (combining form; from Greek: Helios)

---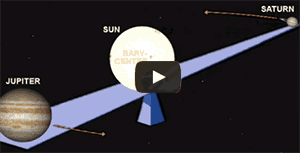 From UNL here's an excellent Flash interactive showing the Effect of the Planets on the Sun's Motion Around the Barycenter!
SOLAR CYCLE
video credit: NASA/Goddard Space Flight Center/
Scientific Visualization Studio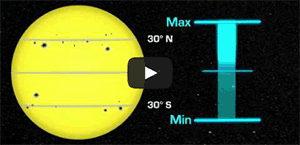 THE SUN: Coronal Mass Ejections & Flux Ropes
video credit: Conceptual Image Lab, NASA
Goddard Space Flight Center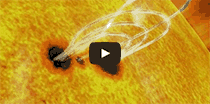 ---
DIRECT LINKS TO MEDIA
OFFERED ON OTHER SITES
THE SOLAR EXPLORER, hosted by Andy Devey, is an awesome website highlighting his extraordinary work in solar astronomy. Loads of solar animations!
Also from NASA here's Sun Earth Viewer.
---
Back to Top

Home Intro News Gallery Sky-Gifts Bonuses Tips
Learning Ctr Help Links Credits Legal Contact Us

© 2007- by Gary M. Winter. All rights reserved.
Interested in political cartoons and humor?
Check out The HIPPLOMATS™.
GREAT AMERICAN ECLIPSE! BEST ECLIPSE IN AMERICAN HISTORY! BEST ECLIPSE IN U.S. HISTORY! BEST ECLIPSE IN US HISTORY! SkyMarvels, Sky Marvels, SkyMarvels.com, SUN INFO, Sol, the Sun, Our Parent Star, Solar Events, Sun's Current Position over Earth, Today's Sunrise and Sunset, Upcoming Eclipses, the Latest Satellite Views of the Sun, the Solar Analemma, Sun Interactives and more! SOLAR CYCLE PRIMER, The Sun's 11-year Solar Cycle, Sun's Magnetic Field, Sunspots, 11-Year Solar Sunspot Cycle, Solar Maximum, Solar Minimum, Coronal Mass Ejections, Solar Flares, Solar Prominences, Core, Radiative Zone, Convective Zone, Photosphere, Chromosphere, Corona, celestia4all, celestiaforall, CELESTIA, astronomy, space, simulations, animations, downloadable astronomy posters, stars, planets, Inner Planets, Outer Planets, Inferior Planets, Superior Planets, moons, asteroids, comets, Oort Cloud, galaxy, galaxies, Milky Way, Andromeda, globular clusters, binaries, quasars, black holes, supermassive black holes, telescope, telescopes, planetarium, software, freestuff, satellites, add-ons, addons, scripts, eclipses, Solar Eclipses, Lunar Eclipses, Solar Eclipse Finder, Lunar Eclipse Finder, mutual eclipses, transits, occultations, Solar System, CELES-TOOLS, celeSTARrium, CELX, CELX programming, Freebies, Bonuses, multiple views, atronomical unit, light year, parsec, meteors, meteor showers, Perseids, Geminids, Leonids, barycenter, time, Time Zones, tides, alignments, conjunctions, oppositions, seasons, apogees, perigees, aphelion, perihelion, Earth, Luna, Mercury, Venus, Mars, Jupiter, Galilean Moons, Io, Europa, Ganymede, Callisto, Saturn, Titan, rings, Uranus, Neptune, Triton, E-MSpectrum, electromagnetic spectrum, astronaut, equinoxes, solstices, precession, rotation, spin, inclination, tilt, Ecliptic, orbits, ellipse, parabola, hyperbola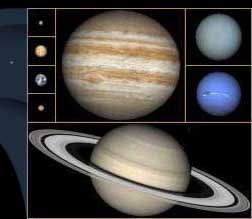 ---
Donate safely with: PayPal
and receive one or more
Sky-Gifts. Your support is greatly appreciated!
NOTE: you do not need a PayPal account to donate.

















———————


---
UPCOMING:
Eclipses:
NASA:
Lunar: 2018 Jan 31
Solar: 2018 Feb 15
Animation
5 Millenia: Solar Lunar
HMNAO:
Lunar: 2018 Jan 31
Solar: 2018 Feb 15
600 Years of Eclipses
Transits:
---
NASA's LATEST
SDO (SOLAR DYNAMICS OBSERVATORY)
Sun Activity: Today's Vids
Sunspots
Prominences
AIA 171 (gold)
AIA 193 (bronze)
AIA 1700 (pink)
Interactive Tool
---
SUN FUN FACTS
The Sun rotates once on its axis in about the same time the Moon takes to orbit Earth once—about a month!
Helium was first discovered on the Sun!
It takes light from the Sun roughly 8 minutes to reach Earth!
The Sun is so large that light requires over 4 seconds to travel a distance of one solar diameter! Check it out with this video.
The Sun accounts for 99.86% of the Solar System's total mass!
SUN INTERACTIVES

QUICK ACCESS LIST
Note: some links are echoed elsewhere on this page and may include descriptive text.
HELIOVIEWER (awesome!)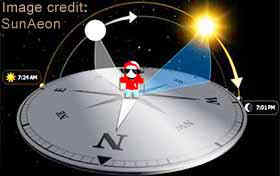 Links to interactive features that show theSun and Solar System in 3-D can be found on our Solar System page
UNL's Effect of the Planets on the Sun's Motion Around the Barycenter!
NASA's THE SUN: A Virtual Tour
NASA's Sun Earth Viewer
Sun's Location Along the Zodiac at Various Times of Year
How Far North and South the Sun Rises and Sets at Various Times of Year
Easily Find Earth's Current Tilt Relative to the Sun
NASA's Living with a Star Program & SDO Mission
---
SKYMARVELS™
CELESTIA ADD-ONS FEATURING THE SUN
---
SKYMARVELS™
POSTERS FEATURING THE SUN
---
SKYMARVELS™
VIDEOS FEATURING THE SUN

Solar Eclipses:

Lunar Eclipses:
---